Teachers in PS 177 high school in Queens, NY were struggling to find a way to help students with learning disabilities focus and advance in school.  Most of the kids in the special ed classes are autistic and the normal curricula did not help them.

Adam Goldberg, a teacher at the school, decided to raise money to get a few iPads in the classroom.  He organized them in a horseshoe and placed music software on them.  Goldberg then asked the kids to play songs such as Bob Marley's "One Love" and viola!  - The results were amazing.

"In some cases, these are kids that were nonverbal," says Leslie Schecht from the NY Department of Education. "They really adapted and changed tremendously."

Goldberg said one kid in particular who would only say a couple words, sang the entire Bob Marley's "One Love" in front of the class & then turned to his teacher and said "iPad please" :)

"When I saw the effect these had on the kids, I pulled together as much budget as I could and ordered 90" said Kathy Posa, the school's principal.

The kids call their school band, the "PS 177 Technology Band".  They have even created original hits that are available on iTunes!  All proceeds go to their school.
Peace & Love,
Jon
- The Good World News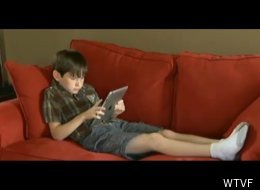 A burglar allegedly responsible for multiple break-ins was outsmarted last week by an 8-year-old boy.
Third-grader Landon Crabtree used a tracking device application he'd downloaded to find an iPad and other possessions recently stolen from his family's home in Manchester, Tenn.
He activated the app from a computer in his house and it revealed that the pilfered iPad was at a nearby motel, the Tennessean reported.
Crabtree told his dad, who called the police. Within the hour Coffee County Sheriff's deputies called to say they'd arrested a suspect, according to the Associated Press.
"You don't mess with our family," said Landon, who wants to be an FBI agent when he grows up, according to WTVF.
Police arrested John Docherty, who they said had used the Ambassador Inn Motel to stash a trove of items stolen during a string of recent burglaries in central Tennessee.
The charges against Docherty widened when a detective in nearby Franklin County saw him on television and recognized that he matched the sketch of a wanted thief there.
"Landon Crabtree, 8-Year-Old, Uses iPad App To Catch Tennessee Burglar" huffingtonpost.com. 27 March 2012. Web. 
View original article at huffingtonpost.com:
http://www.huffingtonpost.com/2012/03/27/landon-crabtree-ipad-catch-burglar-tennessee_n_1382461.html