Anthony "Joe the Barber" Cymerys started volunteering at homeless shelters in Hartford, Conn around 1988.  Around that time, he met a heroin addict who looked as though he needed a haircut, and Anthony decided to help him out.  Ever since then, he came up with an idea to give free haircuts to the homeless in the area.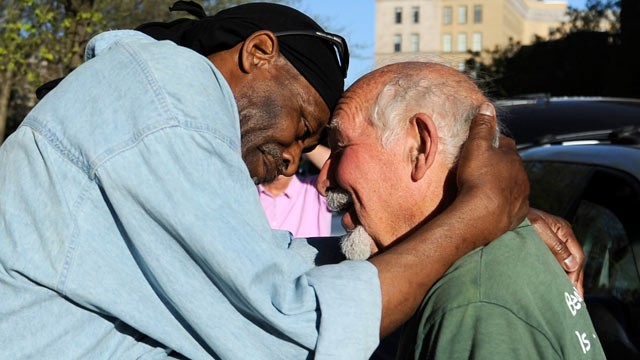 25 years later, Anthony is still giving out free haircuts every Wednesday in the city park to those who need them.  The haircuts aren't totally free though…Anthony requires that you give him a hug in return.  Anthony's friends have also started to hand out food to the needy after they receive they haircuts.  Last year the city honored Anthony for his humanitarian work.  Thank you Anthony for all you do!
Have a great day, and let the good news be yours,
Jeremy
Read more...
What a great way to start your morning when you get to the front of the line and realize somebody has paid for your meal!  At a popular Massachusetts donut shop, Eileen Taylor went to pay for her drinks, and the cashier told her the woman in front had already paid for her! 
She thought about this kind gesture during the day, and actually came back later just to pay for a random strangers meal herself. Eileen had recently lost her job, and money was tight, but she thought it was just the right thing to do because it made her feel good when someone did it for her. 
What she didn't realize is that 55 customers later, the pay-it-forward was going on because of her!  The only reason the chain ended was because there was nobody else left in the line!

Have a great day, and let the good news be yours,
Jeremy

References: http://screen.yahoo.com/55-drive-thru-customers-part-121500056.html?vp=1

Read more...
A man in a wheelchair was trying to read a sign across the tracks at the Metro Center station in Washington, DC when his wheelchair rolled and fell off the platform.  As this was happening US Army Spc. Michael Menchaca was on his way down to catch the subway when he noticed something go over the track. 
Menchaca instantly jumped down to try and free the man, but initially struggled to free the man from the seat belt.  Two others good Samaritans jumped down to help, and together they were able to save the man before the subway came through.  
"It was just the right thing," Menchaca said. "Pretty much like anyone else would have done."  Army Spc. Michael Menchaca is now being considered for the Soldier's Medal, which is the Army's highest peacetime award.


Have a great day, and let the good news be yours,
Jeremy

Read more...