Meet Forrest Lunsway, a 100 year old man who has found true love in Rose Pollard Lunsway, his 90 year old sweetheart.  It is so wonderful to hear a heartwarming story of two people devoting their lives to each other.
How did these two love birds meet?  The happy couple met on a blind date at a senior center dance in the 80's.  They were instantly inseparable.  Forrest and Rose would go dancing several times a week and fell deeply in love. 
Both of them had been married before, but their spouses passed away.  Rose said that her first marriage was a good one, but her husband was sick for a while before passing away.  "After that, I had decided that I had no intention of remarrying," Rose explained. 
But Forrest had other plans - he followed his heart and asked Rose for her hand in marriage.  Even though she loved him, Rose held her ground about marriage.  Rose said, "I told him, 'I'll marry you on your 100th birthday,'"
The two continued to date for 30 years!  During that time they went on many adventures - hiking the coast of California, kayaked in Alaska, and of course they danced.  They always stay active - This is something that they attribute to their longevity.  Rose stated, "My husband is very, very active. In fact, right now he's outside planting.".
On his 100th birthday, Forrest remembered Rose's word and the happy couple got married!  They have received hundreds of congratulatory cards as well as many television appearances.  They even received a card from President Obama!  Forrest and Rose admit that they do not know how to react to their fame, but they are so happy to be married.  Awwwwww :)

Congratulations Forrest and Rose!  We are so happy for you!
Peace & Love,
Jon
Read more...
0
Many call it the "golden anniversary".  Others call it "OMG!!!".  Fifty years of marriage is a beautiful event worth celebrating although it may be difficult for many to imagine - especially for those under 50 years old :)
425 couple celebrated their special day under a single roof - The Holy Name Cathedral in Chicago, IL.  This is quickly becoming an annual event in Chicago!  One thing that old married couples tend to be good at is good advice:
"You should laugh a lot don't take yourself too seriously."
"Have fun and dance, we love to dance," Adele Dary said.
"Don't be too big of a person to say, 'I'm sorry,'" added Alice Bearden.

Some of the couples say that getting to marriage took a while and others said it happened quickly as was the case with the Vincent family.  "The first time he met me he said he wanted to marry me," said Florence Vincent.
Looks like they are all happy to be celebrating the golden anniversary with their main squeeze and their family.   They all took different paths to get to this point, have their full share of good marriage advice, and are an inspiration to many! 
We at Good World News are happy for all of you.  Congratulations!!!!!
Peace & Love,

Jon
Read more...
0
"Baby let's cruise, away from here" - Maybe Smokie Robertson was taking about Margaret Dunning when he was singing that song...who knows.  All we know is that this awesome 102 year old is quick, sharp, and knows more about cars than most people.  Her father taught her how to drive when she was little.  Oh and she looooooves her 1930 Packard 740 roadster.  We can see why - The car is pretty sweet.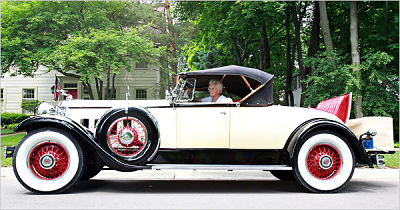 Margaret and her ride. Image Credit: garyjwolff.com
Peace & Love,
Jon
-The Good World News
Read more...
0